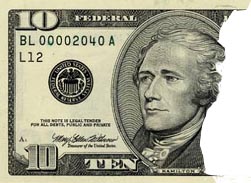 I just wanted to share a few thoughts that have been going through my mind since early this morning.  Our church secretary took our weekly contribution to the bank to make our deposit as usual.  However, one of the tellers told her that our deposit slip was incorrect by $10.00.  She explained that the reason for the discrepancy was because someone had placed a $10.00 bill in the collection plate that had been torn in half, and the bank couldn't accept it.  The teller went on to explain that because of the amount of the $10.00 bill that was missing, the money could not be spent.
Now, I know that whoever gave this torn-more-than-in-half $10.00 bill may not have known that.  I understand that possibility, and therefore am not going to charge anyone with intentionally doing wrong.  That gets me to the point where I'm just "thinking out loud."  "What if…?"  What if someone dropped money in the collection plate to pass along a problem to someone else.  What if someone gave to God what was useless to them, while at the same time feeling justified in their own mind in that they "contributed" to the cause of Christ?
Again, while I will never know the answer to that question, I can say with assurance that it wouldn't be the first time it happened.  Consider the words of God… "Where is my reverence?…You offer defiled food on my altar, but say 'in what way have we defiled you?'…And when you offer the blind as a sacrifice, is it not evil?  And when you offer the lame and sick, is it not evil?  Offer it then to your governor!  Would he be pleased with you?  Would he accept you favorably?…But cursed be the deceiver who has in his flock a male, and takes a vow, but sacrifices to the Lord what is blemished." (Malachi 1:6,8,14).
While I was "thinking aloud" today, I also couldn't help but think of how many people assembled to worship God yesterday, but who will not be seen again until Christmas.  Grant it, I am thankful for the opportunity to speak to and with so many people.  They are where they need to be.  But at the same time, I can't help but wonder how many people think assembling on "Easter" and "Christmas" fulfills their obligation and is acceptable to God. 
As I think out loud today, I am reminded that God is not mocked, and that he is not pleased with our "lame" sacrifices and our uncommitted service.  God deserves more than a $10.00 bill that cannot be spent and two Sunday mornings a year.