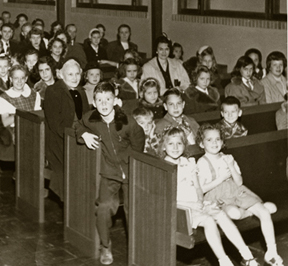 It goes without saying that times sure have changed.  I for one, don't lament that.  I am glad to be the beneficiary of many of those changes.  However, not all changes have been for the better.
One of the changes that I do lament is the overall downgrade with reference to morality, reverence, and modesty.  We now live in a time when young women wear clothing in public that is more suitable for the privacy of their bedroom.  As if this weren't bad enough, these young women even wear this type clothing to worship services.
One of the problems I think we have is that we have forgotten the purpose of clothing.  Clothing was intended to be worn to "cover" our bodies and to "hide" our nakedness.  Today, many wear clothing to "expose" their bodies, and to tantalize and excite the imagination.
It has become a weekly practice for me to be shocked by the dress of some who walk into the church building to worship God.  I go home asking myself, "Where is their sense of shame?"  and "How could their parents allow them to dress that way?"
While repeatedly seeing such a disregard for modesty is discouraging, allow me to share an encouraging story with you.  Yesterday, a few minutes before our worship service started, a teenage young man moved from one end of the pew to the other.  After moving, he ended up sitting directly behind me.  So I turned around and said, "Hey, (blank) why did you move down on this end?"  His response was, "Are you kidding?  There's no way I could ever worship God sitting by the girls down there.  Did you see how they were dressed?  I couldn't possibly stay there and keep my mind on spiritual things."
Let me tell you, I haven't been that proud of a young man in a long time.  What an expression of spiritual maturity!  And what a sad commentary on the way our teenage girls were dressed.
Friends it's time we speak up for this truth, like we would any other truth.  Modesty is as much a biblical issue as baptism or worship.  Would we idly sit by in our churches and watch as God's truth on baptism or worship was hijacked or discarded?  Surely not.  Then why would we idly sit back in our churches and witness God's truth on modesty being ignored?  Preachers need to lovingly speak the truth on this subject, and call people to accept the high and holy calling of Jesus.
Allow me to close by asking a question…When is the last time you preached, or heard your preacher speak, on the subject of modesty?