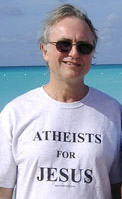 Richard Dawkins, a world renowned atheist and the author of a book entitled, "The God Delusion" was recently photographed sporting the t-shirt in the picture to the left.  The message on the t-shirt is, "Atheists for Jesus".
Now, why would an atheist wear a t-shirt saying, "Atheists for Jesus?"  The answer to that question is that Dawkins unashamedly calls himself a "Cultural Christian."  In other words, Dawkins rejects any and all claims regarding Jesus' deity, but he accepts his code of ethics and likes his moral values, and wishes more people lived according to them.
You see, Dawkins likes the character traits exhibited in Jesus.  He likes his stand on human rights and human worth.  He likes his patience, kindness, compassion, and love.  But what Dawkins fails to realize is that all these characteristics are rooted in the nature of God.  The reason Jesus exhibited these character traits is because they are consistent with character and law of God.
Whether Dawkins realizes it or not, the message on his t-shirt exposes a fundamental flaw of atheism.  Atheism provides no values, no code of ethics, no standard by which to measure any human conduct.  If there is no God; if one is nothing more than a biological accident; if one is accountable to no one; if one is here today and gone tomorrow; then why shouldn't he live as he chooses?  What possible reason would one have to deny himself gratification in order to demonstrate love, patience, and compassion for others?
While Richard Dawkins may have worn this t-shirt in order to be "clever" and "witty," the truth of the matter is that Atheists do indeed need Jesus and ought to be thankful that the influence of Jesus has spread as widely as it has, for I don't think Dawkins and his fellow atheists would like living in a world without Jesus.