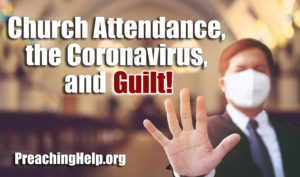 This weekend, a number of churches all over the country have modified or even canceled church services due to the threat (real or exaggerated) the coronavirus poses to our nation. Some congregations have canceled their Sunday morning and Wednesday night Bible classes while maintaining the Sunday morning and evening worship services. Others have canceled all assemblies until further notice.
Due to these changes, I have witnessed what I believe to be some rather "loose" accusations made of unfaithfulness to the Lord, and a lack of faith in God against brethren and entire churches, because of their decisions to alter their weekly assemblies.
More than likely, we're familiar with the passage which exhorts us to "not forsake the assembling of ourselves together, as is the manner of some…" (Hebrews 10:25). However, I think it is a serious mistake to attempt to apply this exhortation to brethren who are looking out for the health of vulnerable Christians among them. There is a vast difference in "forsaking" the assembling of the saints, which this passage forbids, and "missing" the assembling of the saints which is what is currently taking place due to the virus. The word translated, "forsaking" means "to abandon, leave behind, or desert."
For instance, would we charge the sick and shut-in with sin, because they are missing the worship assemblies? Of course not. The reason is because the command is discussing "forsaking," not "missing" the assembly. The sick have not "abandoned, left behind, or deserted" the assembling of the saints, but they do miss the assembling of the saints. What if you were getting in your car to come to worship service when you noticed your neighbor, who also was going to church, stagger, grab his chest, and fall in his driveway? Would you leave him there so you could get to church because, after all, there's that command to not forsake the assembly, or would you call 9-1-1 and stay with him until help arrived? Surely, you would do the later, which would be the right thing to do. Would it cause you to miss the assembling of the saints? Yes, more than likely, but in missing, you had not abandoned, left behind, or deserted" the practice of assembling.
In both cases above, a Christian missed the worship assembly, but they did not at all sin by "forsaking" the assembling of the saints. Brethren, the actions that some congregations are taking to protect their most vulnerable members, does not demonstrate a lack of faith in God, but rather a deep love and deference toward their more vulnerable brothers and sisters in Christ. Furthermore, many Christians work throughout the week in populations that are very vulnerable and at risk. Taking temporary precautions that can save their lives might require that some "miss" out on our usual practices, but it doesn't mean they have "forsaken" the assembly and the Lord. Give it some thought.